Mexico
Type: Arabica
Processing: Washed
Classification: HB GR1
Region: Chiapas
Notes: Rich and complex, it has very fruity notes and an exquisite fragrance. As a Fairtrade coffee, it is the perfect blend of flavour and solidarity.
Background
Coffee plantations were already appearing in Mexico by the late 1700s. The plants were then imported from the West Indies. However, it would take almost a century for the first beans to make their way to Europe in about 1870.
Mexico is the world's fifth coffee producer, behind Brazil, Vietnam, Colombia and Indonesia, and it exports 80% of its production. Nearly 2 000 000 bags are set aside for national consumption, a figure that has remained stable for many years. The 100 000 Mexican producers farm about 750 000 hectares (or 7 500 km²) and are generally smallholders. 90% of farmers own an average area of 5 hectares.
Geography
Culminating at more than 2000m and crossed from east to west by a chain of neo-volcanic mountains, the plateaus in Veracruz, Oaxaca and Chiapas are home to Mexico's coffee growers. The latter region, Chiapas, continues all the way to Guatemala and is home to the city of Tapachu. The name of this city will likely mean nothing to Western consumers. Tapachu is the local name for one the most popular coffees, which is known in our regions under another name — Chiapas.
It is in this ancient Mayan city that local farmers plant their coffee, according to traditional methods, on intact and unspoiled sites and in the shade of protective trees. The production process is therefore certified organic. By exporting 20% of this Tapachu / Chiapas, Mexico is also the leading producer of organic coffee in the world.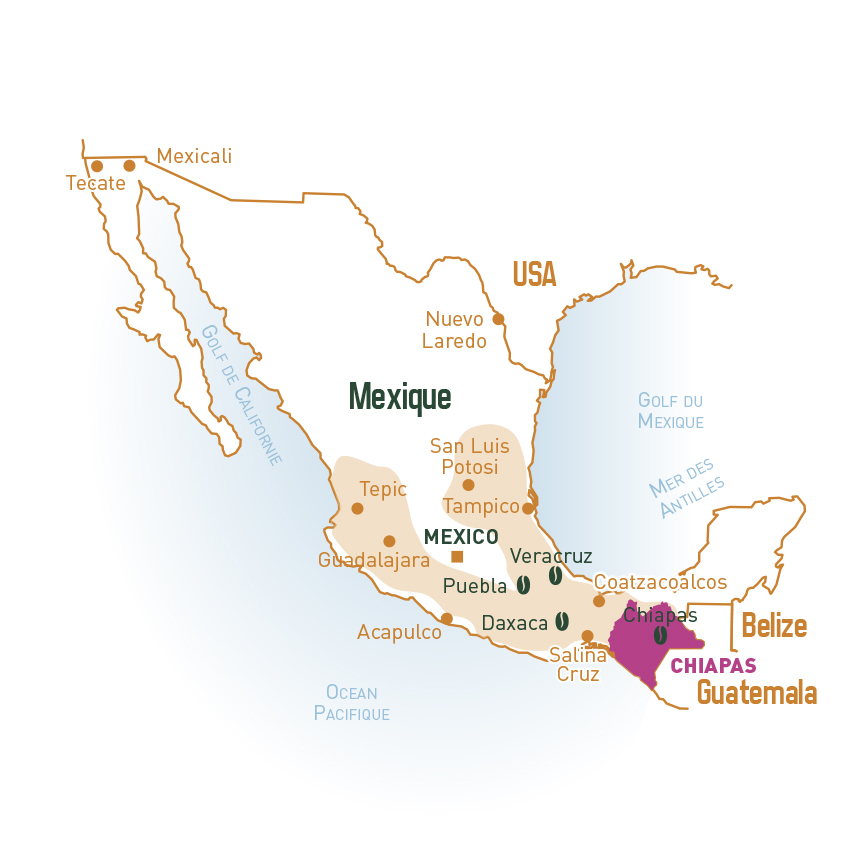 Crop information
Species:
• Arabica: for the most part
• Robusta: very little
Varieties:
Arabica: Maragogype, Caturra, Mundo novo, Typica.
Altitude:
From 500 to 2 000 m
Cultivation:
Shade and high altitude
Harvest:
Manual and selective (Picking), from November to March
Dry season:
The dry season lasts from November to April due to cool winds coming from the Gulf of Mexico.
First shipments:
November
Processing:
• Mostly washed (90%)
• 36 hour fermentation
• Drying on cemented areas or in ovens (at high altitude)
• Mechanical and electronic sorting, with manual sorting for superior quality coffees
Calibration:
Mechanically
Export period:
From December to September
Average caffeine content:
• 1.7%
• Maragogype: 1.22%
Economy
By taking advantage of an ever-growing craze, coffee sales are expected to grow by 3% annually in the Mexican market with a forecast of 124,000 tonnes in 2019. Another factor that makes producers optimistic is the level of domestic consumption, which is still rising.
Producing more than 360 000 tonnes per year, Mexico is ranked as the 5th largest producer in the world. It is devoting an ever-larger area to coffee farming, and has increased the area of its plantations by nearly 30% since the end of the 90s. Over 15% of farming land is used for growing coffee and coffee accounts for nearly 10% of national agricultural production.