Enamelled plates
Six times. Six times! Before adorning the facades of breweries, cafés and restaurants that love coffee done right, our enamel plates are fired six times at a temperature of 800°C.
To achieve a finish as elegant as our new black-and-white logo, the craftsmen at Willems Classics in the Netherlands gradually layered the glass on a metal plate by hand in the traditional way. The result is not only beautiful: it is also unalterable (UV, weather, extreme temperatures...), anti-graffiti and 100% recyclable.
A noble material, a permanent search for excellence, a durable and beautiful product: between Willems Classics and Charles Liégeois Roastery, the story has probably just begun!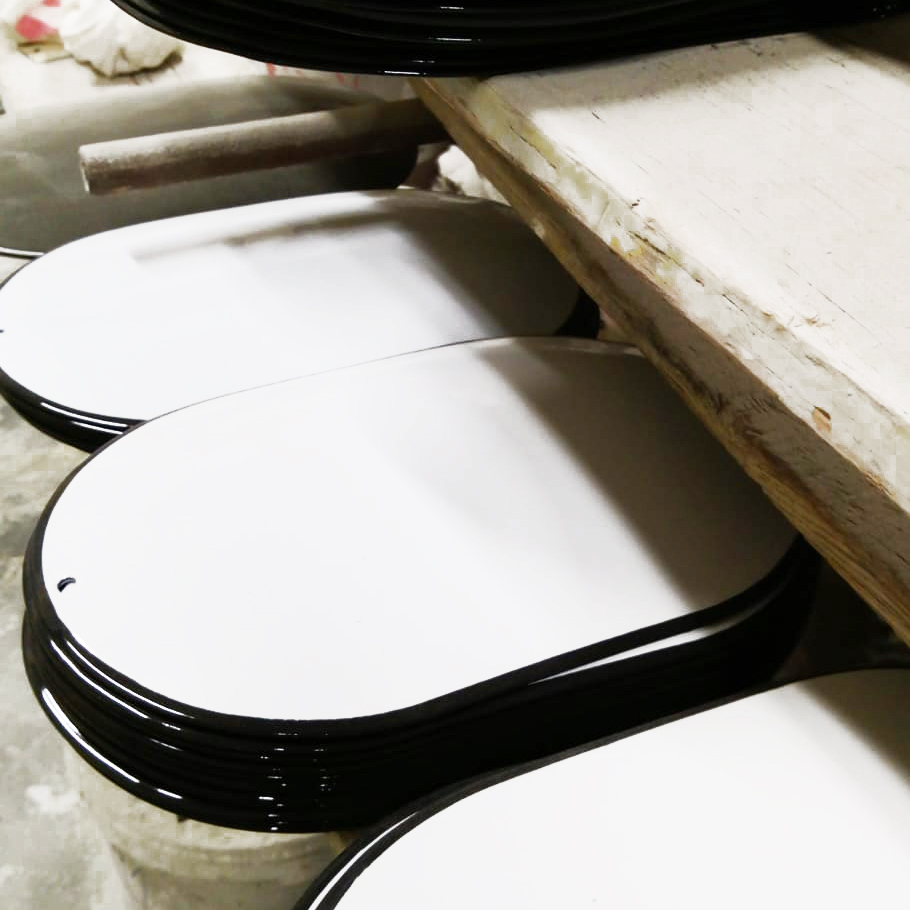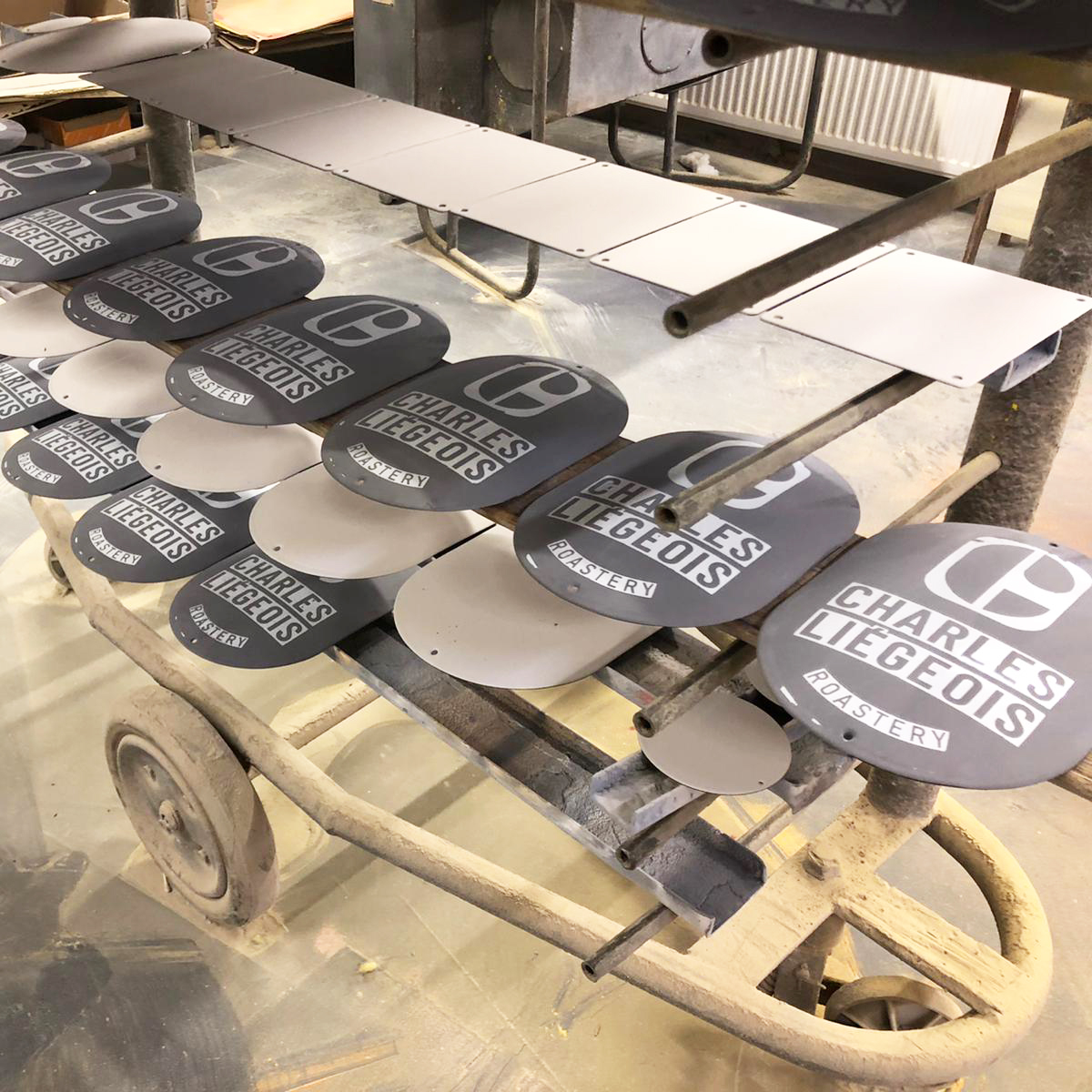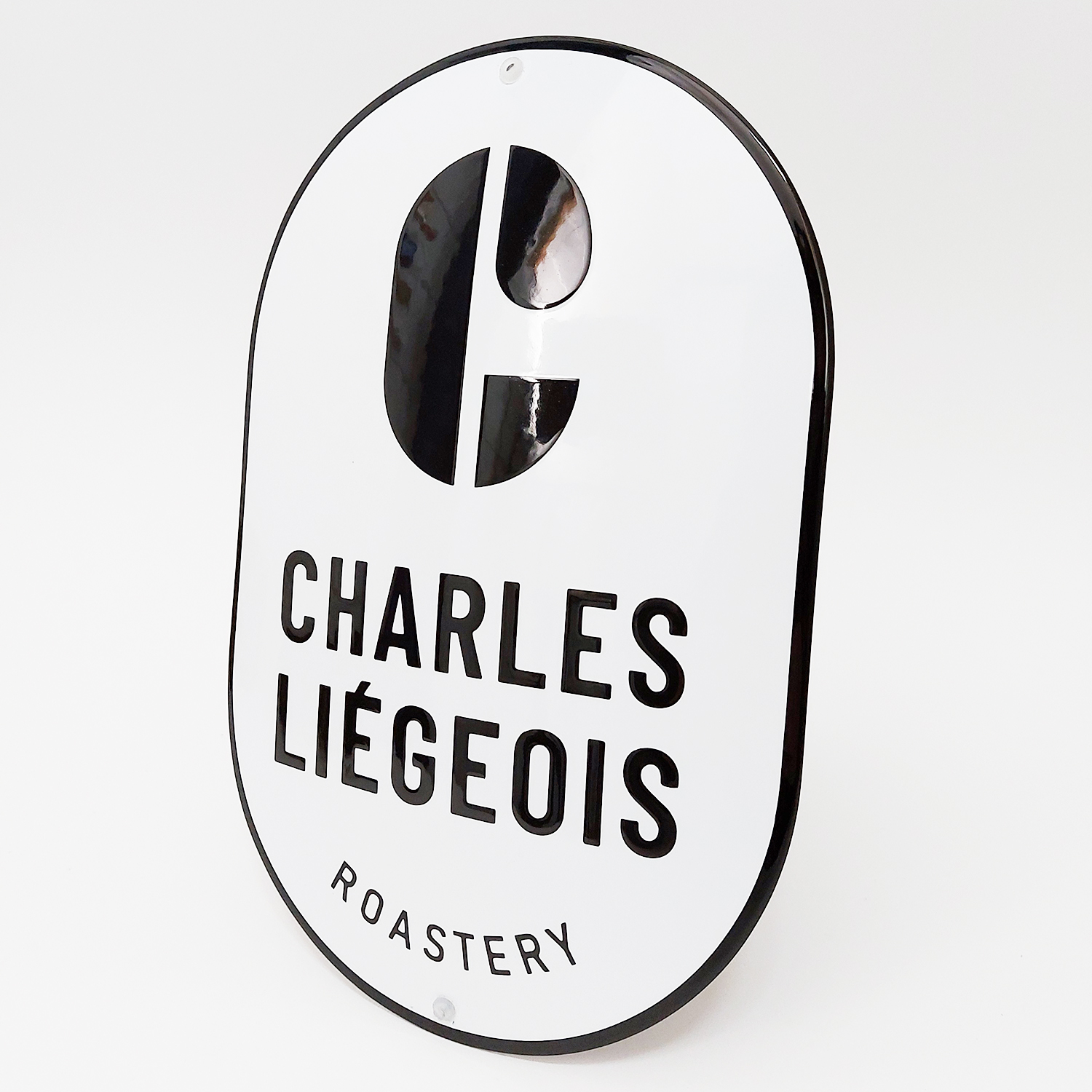 Cups & Coffee
We wanted special cups, for coffees that are out of the ordinary. An elegant design, a handle recognizable among all, a rounded bottom that allows the most beautiful latte arts, and a declination in 4 models (lungo, ristretto, cappuccino and mug).
Cup&Saucer had the ambition to offer "the perfect combination between the maximum quality of the design and the simplicity of the actions of a leader in the production of porcelain cups in Europe".
The result of our meeting is here, and on the tables of all lovers of good coffee! Designed by Christophe Deharre, marketing director of Charles Liégeois Roastery, the cups and handles are assembled by hand in this workshop in northern Portugal, for a unique look. As for their saucers, round but square in the middle, they are a little bit offbeat, just like our little coffees!
Niyona, artisan leathercraft
Handmade in the NIYONA workshop, the Charles Liégeois full-grain leather apron is dedicated to our best ambassadors: accredited baristas who share their knowledge and know-how to please the palates of other lovers of good taste. A gift that we are happy to offer to these baristas who share our passion.
The NIYONA studio in Brussels specialises in the design and production of high-quality leather goods. At NIYONA they interpret craftsmanship in a contemporary way, "always pushing back the boundaries of creativity and manufacturing techniques". The team explore and experiment with leather, working in partnership with local tanneries, who provide high-quality hides from renewable sources.
This approach appealed to Charles Liégeois, just as much as the way each project – from design to production - is managed in a personalised way.
"The request from Charles Liégeois was specific in that they wanted to offer baristas the possibility of personalising their apron. We work with a unique model, a shape expressly designed for Niyona: for Charles Liégeois, we therefore opted for a specific embossed feature (green, rather than the more usual silver or bronze), with a discrete signature « Café Liégeois » on one of the straps, and the option to choose from a variety of shades of leather", explain Jonathan Wieme and Nina Bodenhorst, creators of the brand.
And, because we like an object to keep something of the soul of its manufacturer, you will also find the Niyona logo on it. You'll have to look hard!