Portraits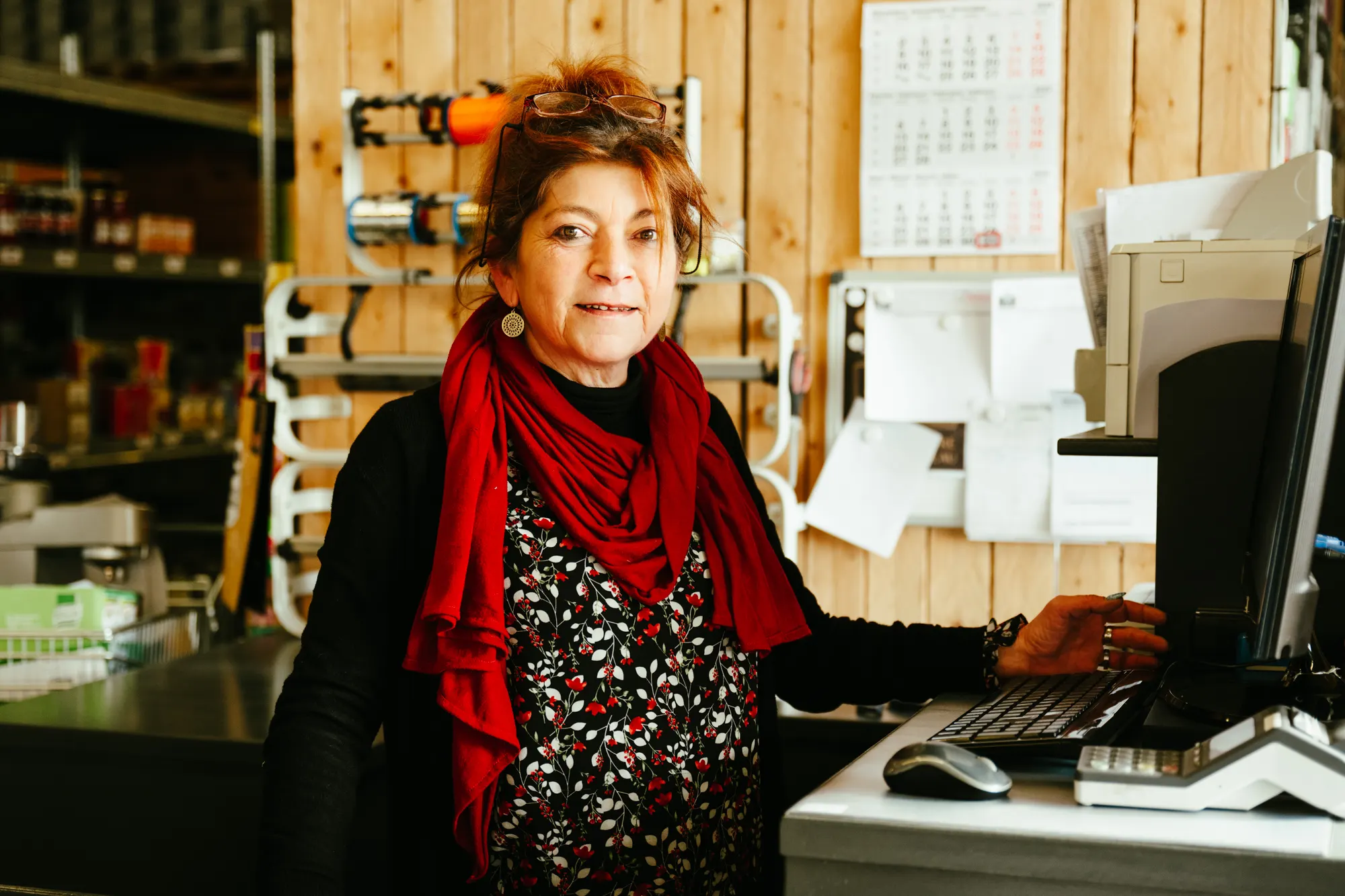 Pascale, legal department employee.
"I take my first coffee of the day at the office"
"I started at Moka d'Or in May 2014. I mainly work in the legal department, but I also work the tills and the telephone at times. I take my first coffee of the day right here. Outside of work, I absolutely love decorating and gardening. I always decorate my desk according to the seasons. And I'm lucky enough to have a large plot where I can plant all kinds of things…"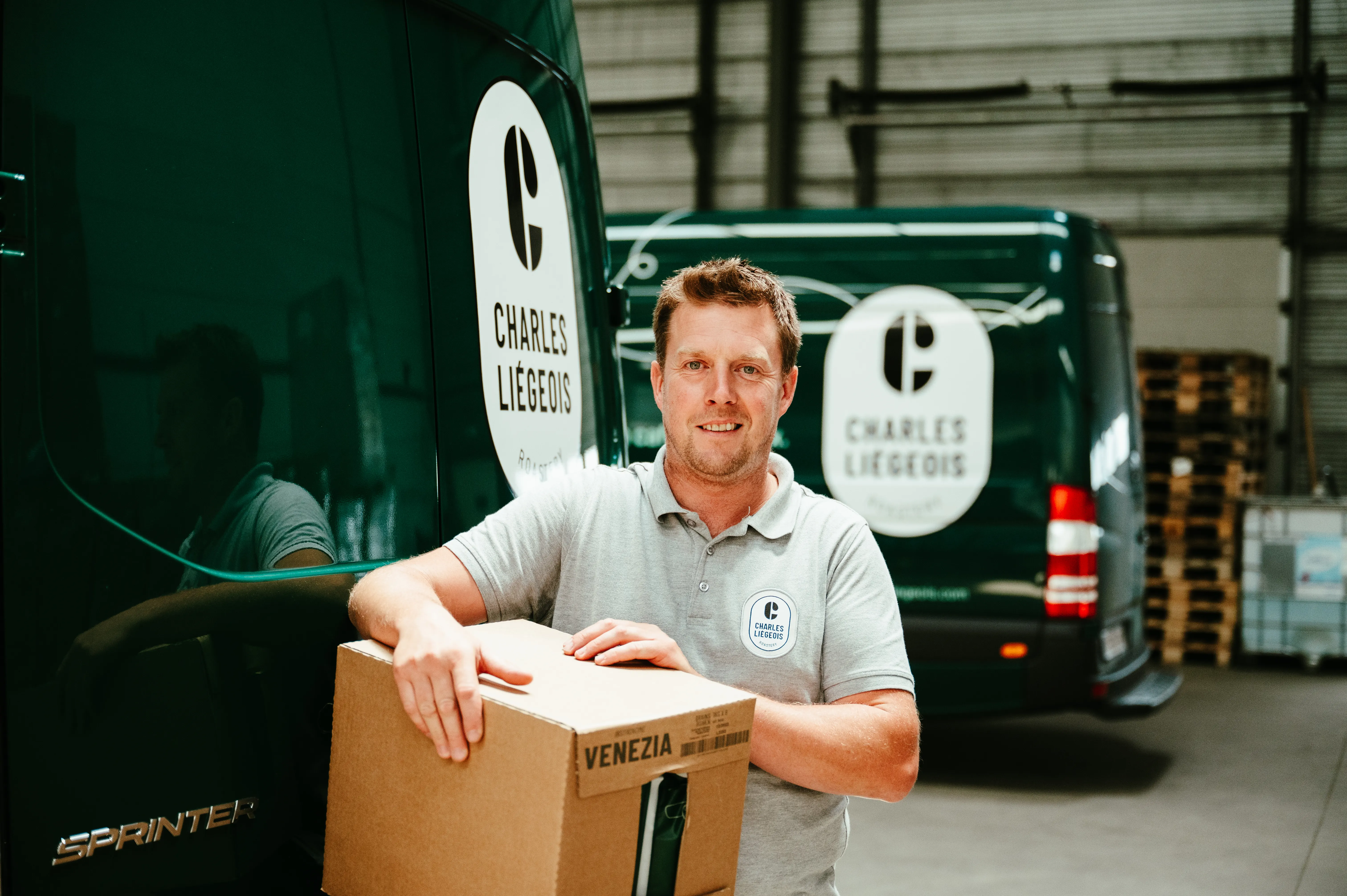 Gaëtan, Delivery Driver.
"My wife and I are about to open our own little Alsatian restaurant"
"Two of my colleagues and I deliver to shops, department stores, schools, factories, hospitals, offices, and all our B2B clients, except for hotels, restaurants and cafés. We sort out the delivery routes in the evening and we load the truck in the morning. Today, I covered 400 kilometres on the round to the Ardennes. Tomorrow, I am going to Liège. I deliver to around 20 customers everyday. It's a nice job, and not too physically demanding. As for the rest, I have an adorable little six-year-old daughter, and I am a fan of cycling and of Philippe Gilbert. It's his last season this year. My wife and I go to the Aubel market on Sunday mornings. We bake flammekueches in our oven. We also go about catering to events, like birthday parties. We are soon going to open our own little Alsatian restaurant, which will be open for business only on weekends!"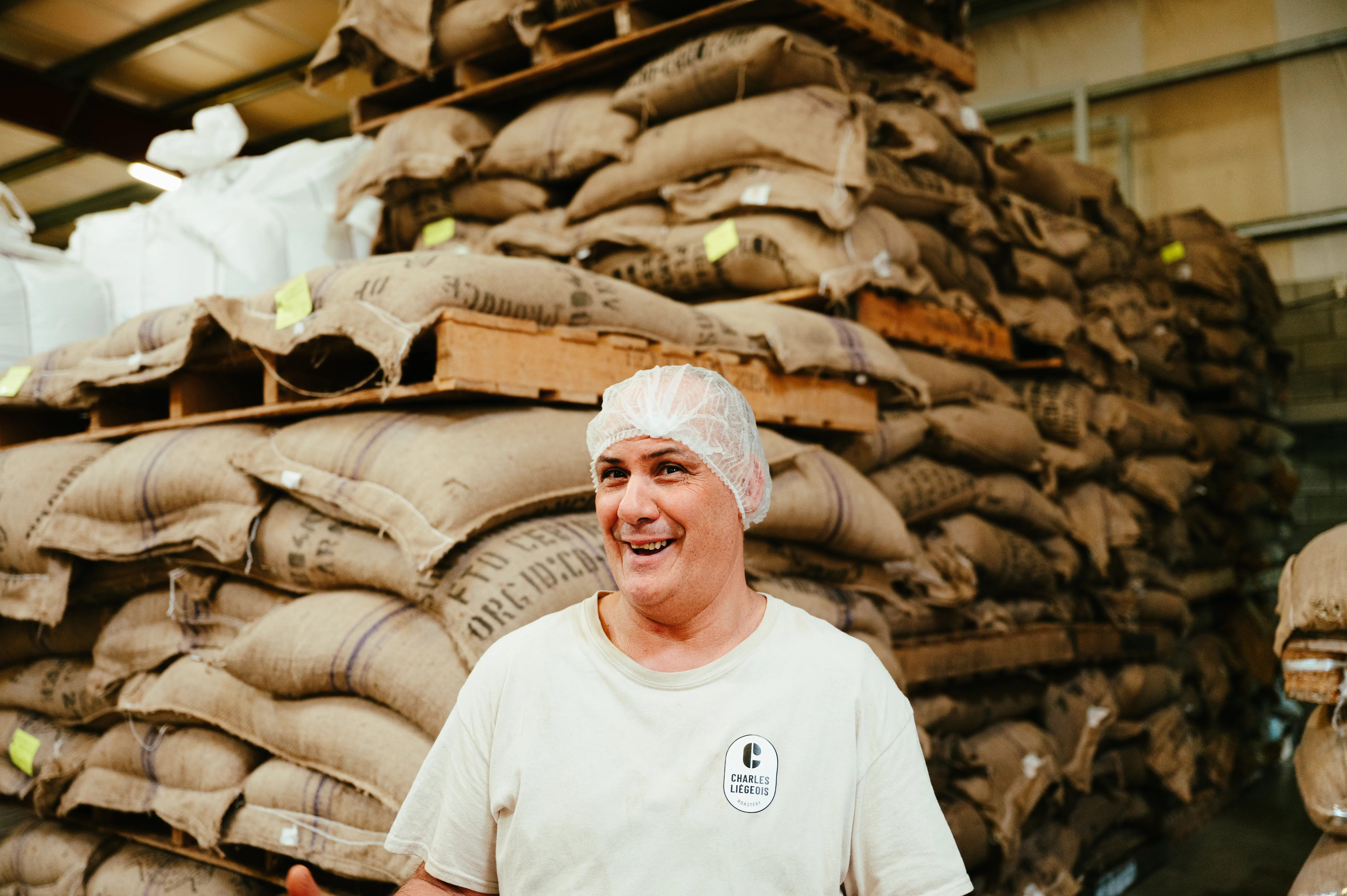 Abdelhak, Coffee Roaster.
"I have been working for 33 years"
"I load the green coffee (unroasted coffee beans) in the roasting machine, after which I grind the roasted coffee. Personally, I drink coffee from capsules. On weekends, I look after my children and need to rest. I have been working for 33 years, including 8 years doing odd shifts, all of which is beginning to wear me out a bit. With the holidays coming up soon, I am going to Marrakesh this summer, where my family and I will recharge our batteries and pay a visit to my sister. These are precious moments."
Gérard, Machine Technician.
"Golf is a wonderful sport"
"I have been working in the agri-food industry for 36 years! My job at Charles Liégeois involves finding solutions for every technical problem, be it for coffee machines, ice makers or machines used in the production workshop. Not to forget machine breakdowns at the customers' premises. We are all skilful, at the workshop as well as on the road. I play golf whenever I can, at the Haras Golf Club in Pepinster. I started five years ago, after I stopped jogging. It helps me to relax, and clears my head. Try it, and you will see what I mean! I also take care of my grandchildren, and it's magical!"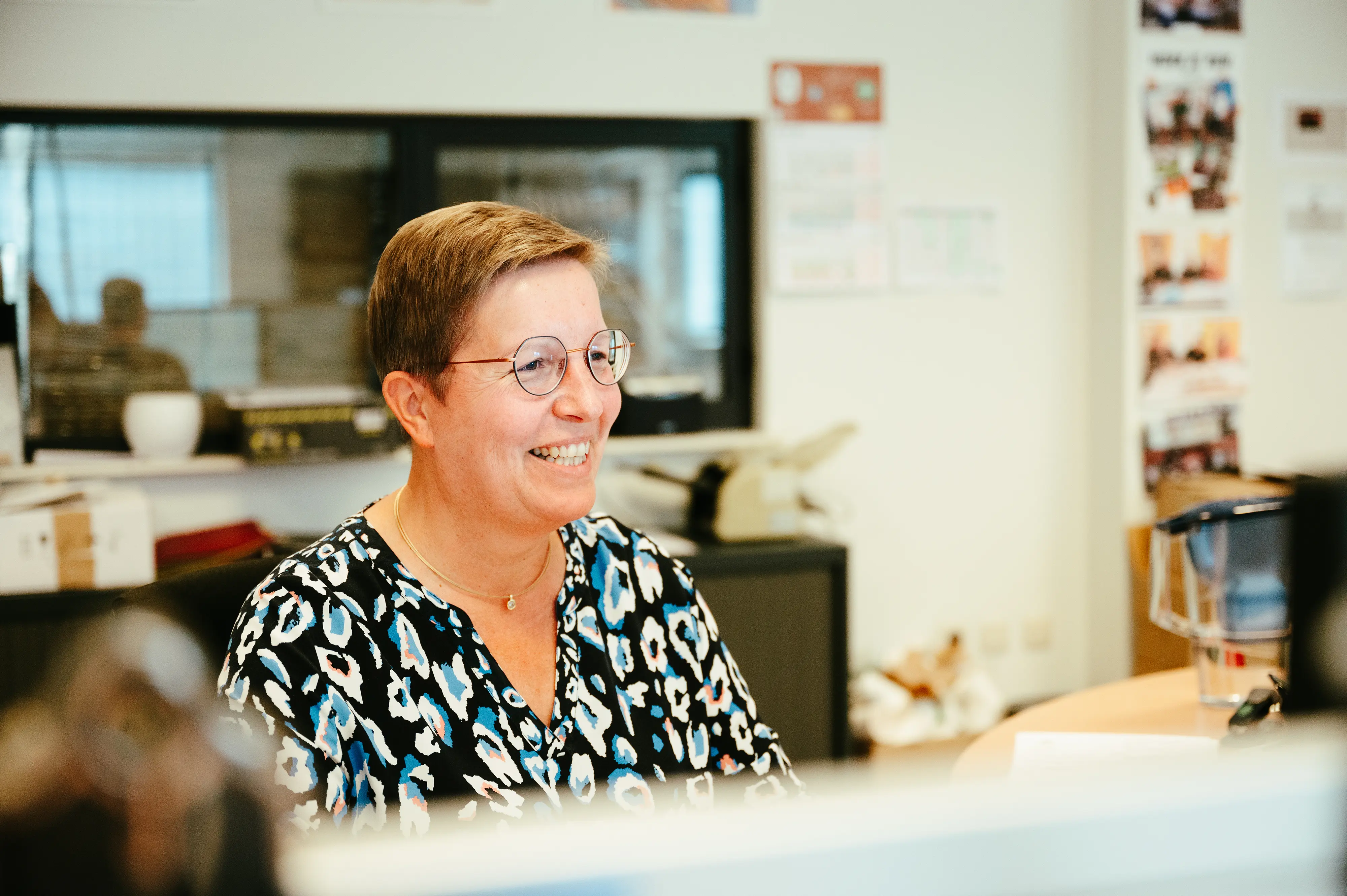 Geneviève, Administrative Manager for Exports.
"I am part of the furniture"
"My job is very diverse: logging orders, following up on them, billing, managing deliveries, completing the paperwork required for large-scale exports, and so on. I have been part of the furniture here for 27 years. It seems like if you call for Gene, you often get an answer. It's my first job, and without a doubt my last as well. I especially like the family atmosphere here. I live just 10 minutes away. As for the rest, I like going on walks to Charneux with my dog, Lol, a Jack Russel. I also like drinking mojitos with friends. My partner and I just returned from three days in the Baie de Somme, and we are going to the Île de Ré in September."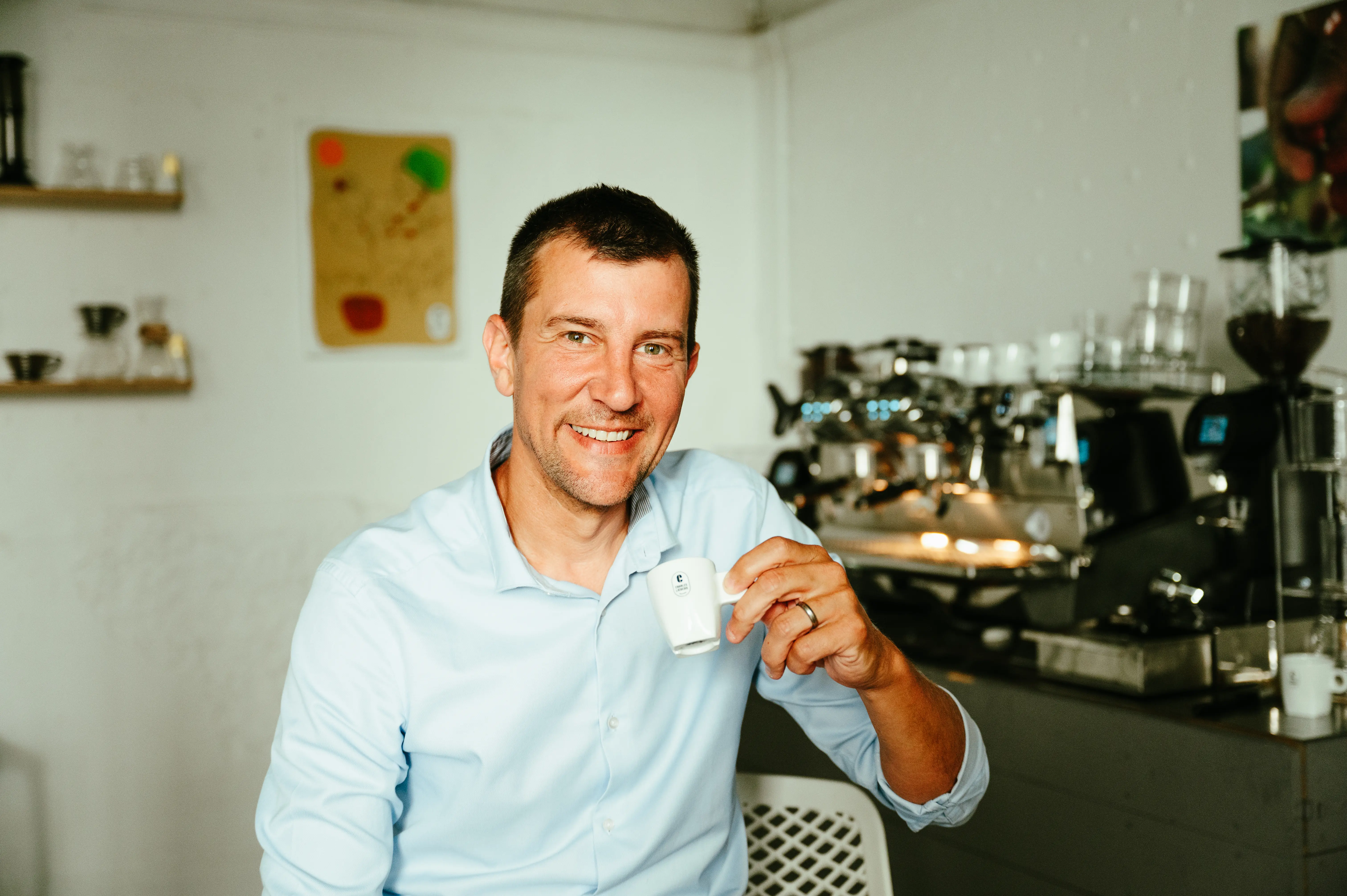 Antoine, Key Account Manager.
"The mountains offer a breath of fresh air, literally and figuratively"
"I was hired a year and a half ago to continue Bernard's work, that is, managing Charles Liégeois' major accounts. Specifically, I manage the existing pool of Belgian and international clients, which requires a daily commercial and technical follow-up. I am also responsible for contacting new central purchasing companies with the aim of increasing the turnover. Going beyond the business relationship, I consider us to be more like partners, or even advisers, to our clients. As for the rest, I climb the high mountains twice a year. It's a very rough, very rocky environment without any vegetation, which requires a certain respect, and solid training. The mountains offer a breath of fresh air, literally and figuratively. It provides a physical as well as a psychological boost!"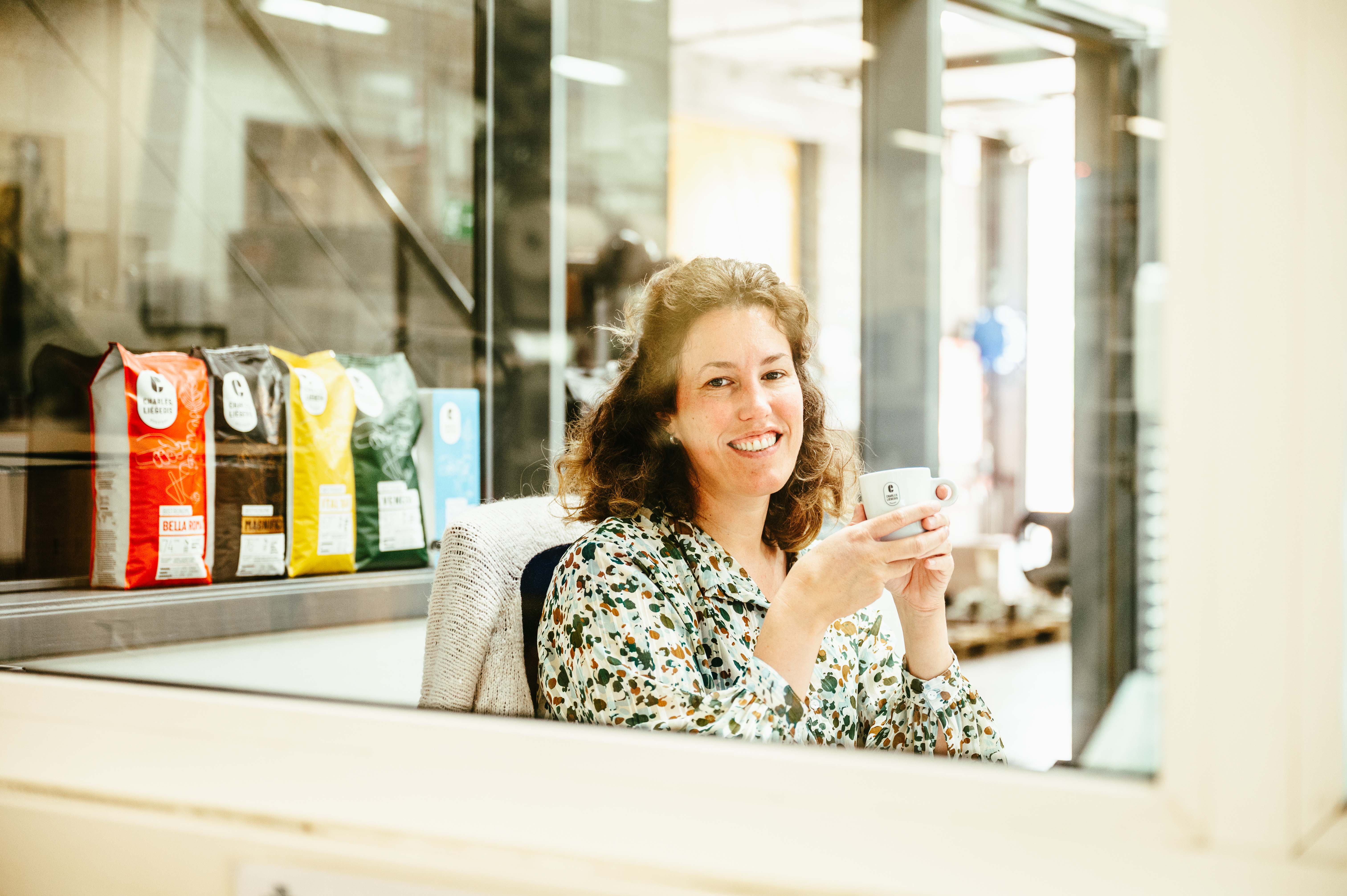 Mélanie, Supply Chain Employee.
"We are all in this for the love of coffee"
"I place orders for the replenishment of packaging stock, and I follow up on these orders with the suppliers before receiving them. Loving coffee is an absolute prerequisite in order to work at Charles Liégeois. This is new for me, as I was hired at the end of 2021. I especially like the diversity of tasks, but of course, my colleagues as well. My husband and I just bought an electric bike, and we are going to go on some beautiful rides in the region of Verviers."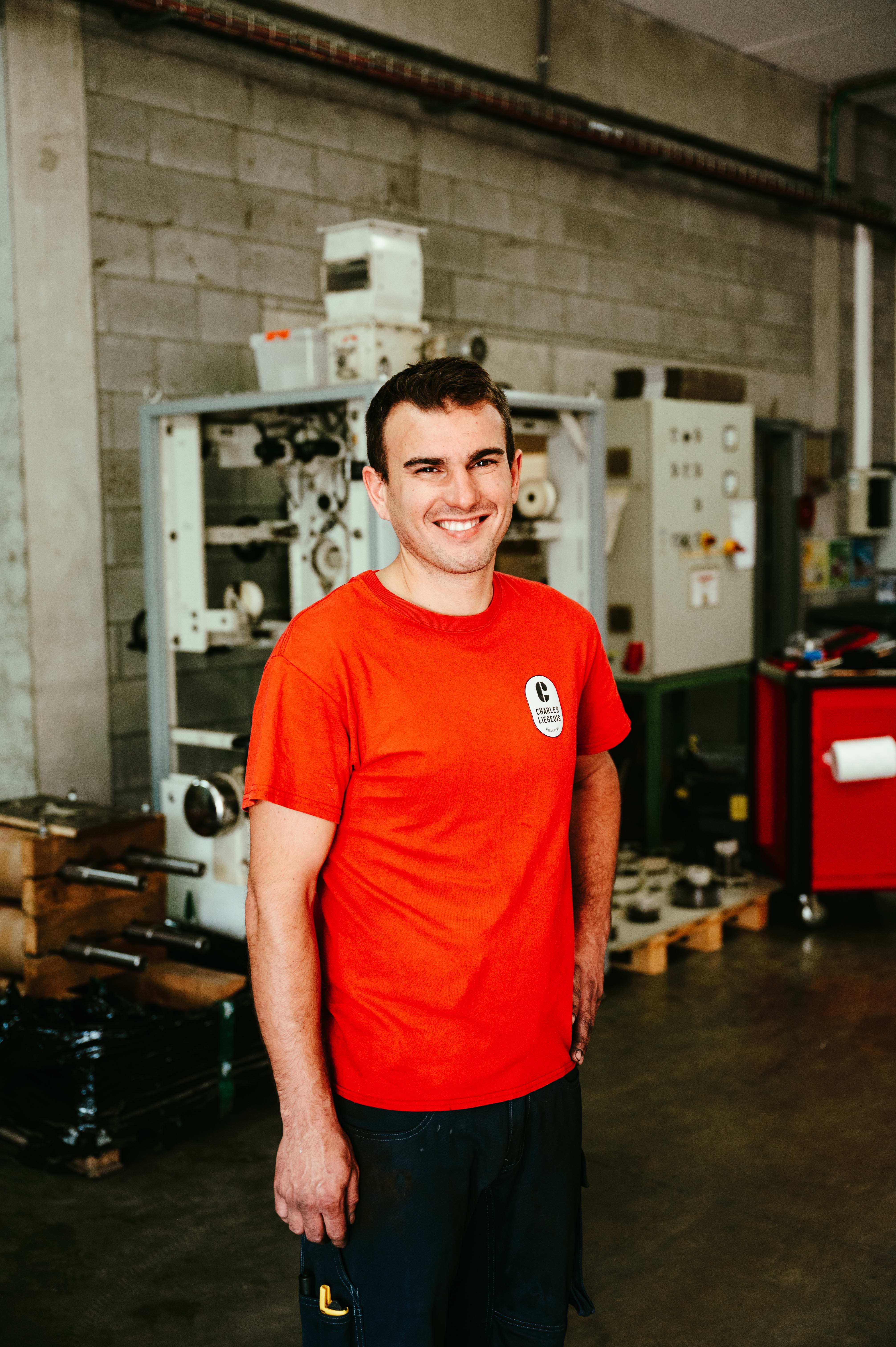 Jean-Yves, Electromechanical Technician.
"I love everything technical"
"I mainly take care of repairs and preventive maintenance of machines. Unlike my colleagues, who take a break between 6 a.m. and 10 p.m., I mainly work during the day, from 8 a.m. to 4:30 p.m. By the end of 2022, I will have completed 14 years working at Charles Liégeois. I like the diversity of my work, because every morning, I come in without really knowing what my day will involve. My main hobby is football. I have two kids now, and I don't get much chance to play anymore, but I have a subscription with the Standard de Liège Football Club, and I am also a supporter of FC Barcelona."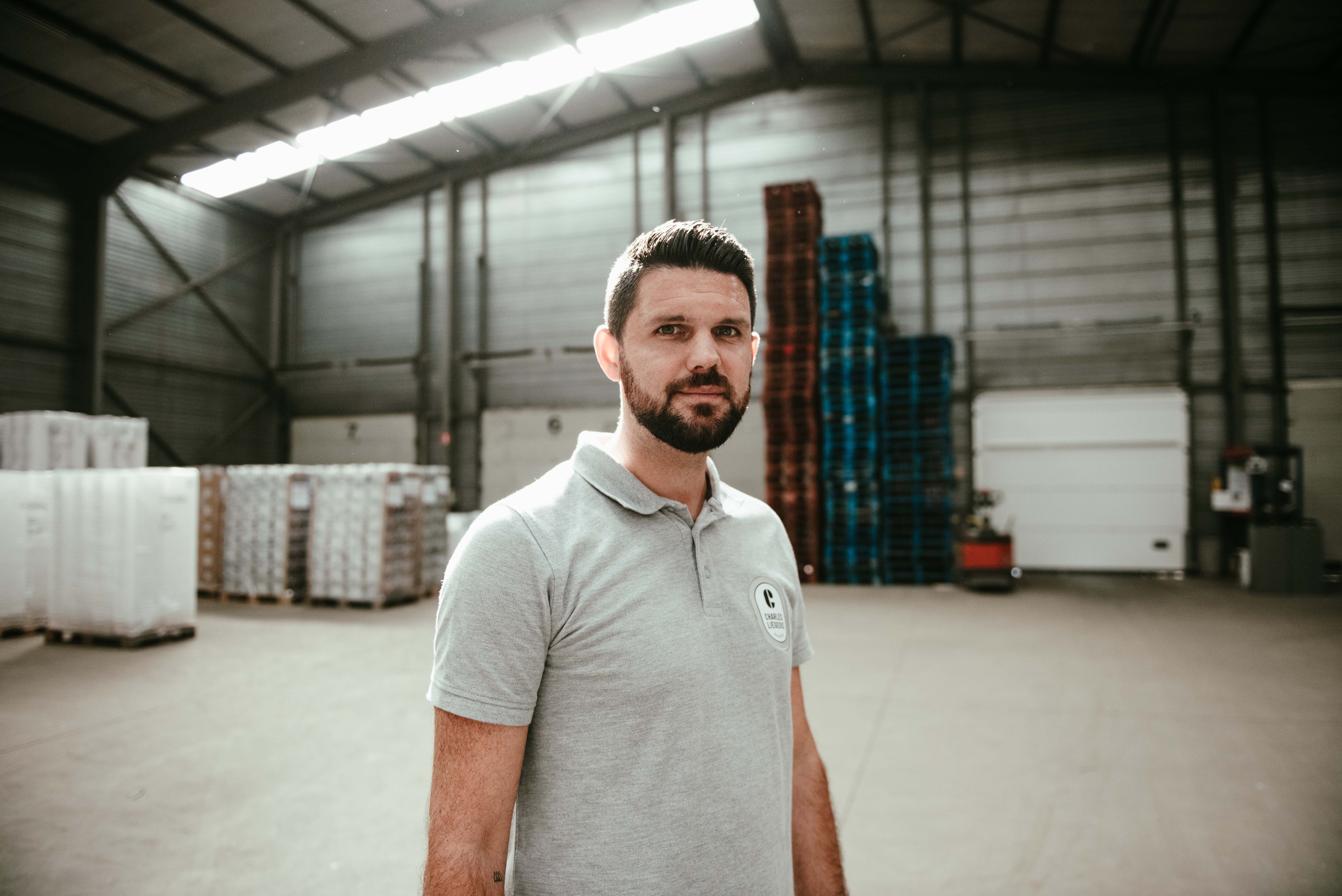 Cédric, warehouse clerk.
"I am like a Swiss army knife."
"I work as a warehouse clerk at the Charles Liégeois warehouse, but I am actually like a Swiss army knife. Having worked for the company for eight years, I have had the opportunity to cover for several colleagues and to thereby gain considerable experience, which makes me capable of taking on the work of those who are absent. I can make deliveries, service appliances at a customer's premises, or stand in for a sales representative. I also prepare orders for clients (companies, hospitals, schools, and so on). It's nice to alternate between manual tasks and administrative tasks. When I meet colleagues here, we have coffee together, with some sugar and milk for me. I recently became the proud father of a little girl. On weekends, I spend a lot of time with my family and I play football with my friends on Sunday mornings."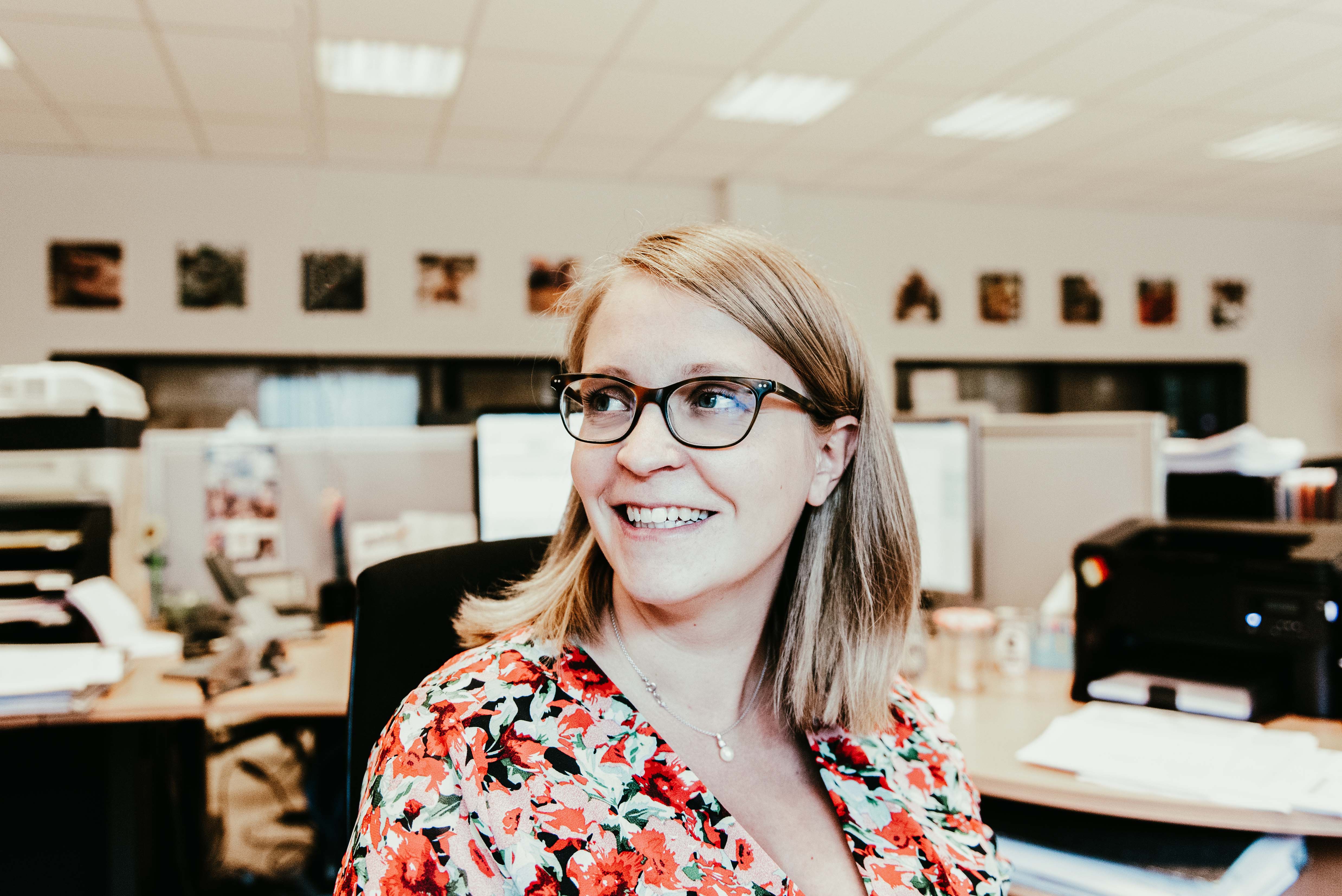 Cécile, administrative clerk.
"We love going on family walks on weekends."
"Every work day is different. We log orders and we make sure we follow up on them, but every once in a while, a minor glitch may jam the whole system. When this happens, we look into the how and the why to make sure that the customer is served right on time. I have been working at Charles Liégeois for ten years. I am proud of being a part of a family-owned company that offers a fine product. As for my great passion currently, I look after my two children on weekends, and we really like going on family walks."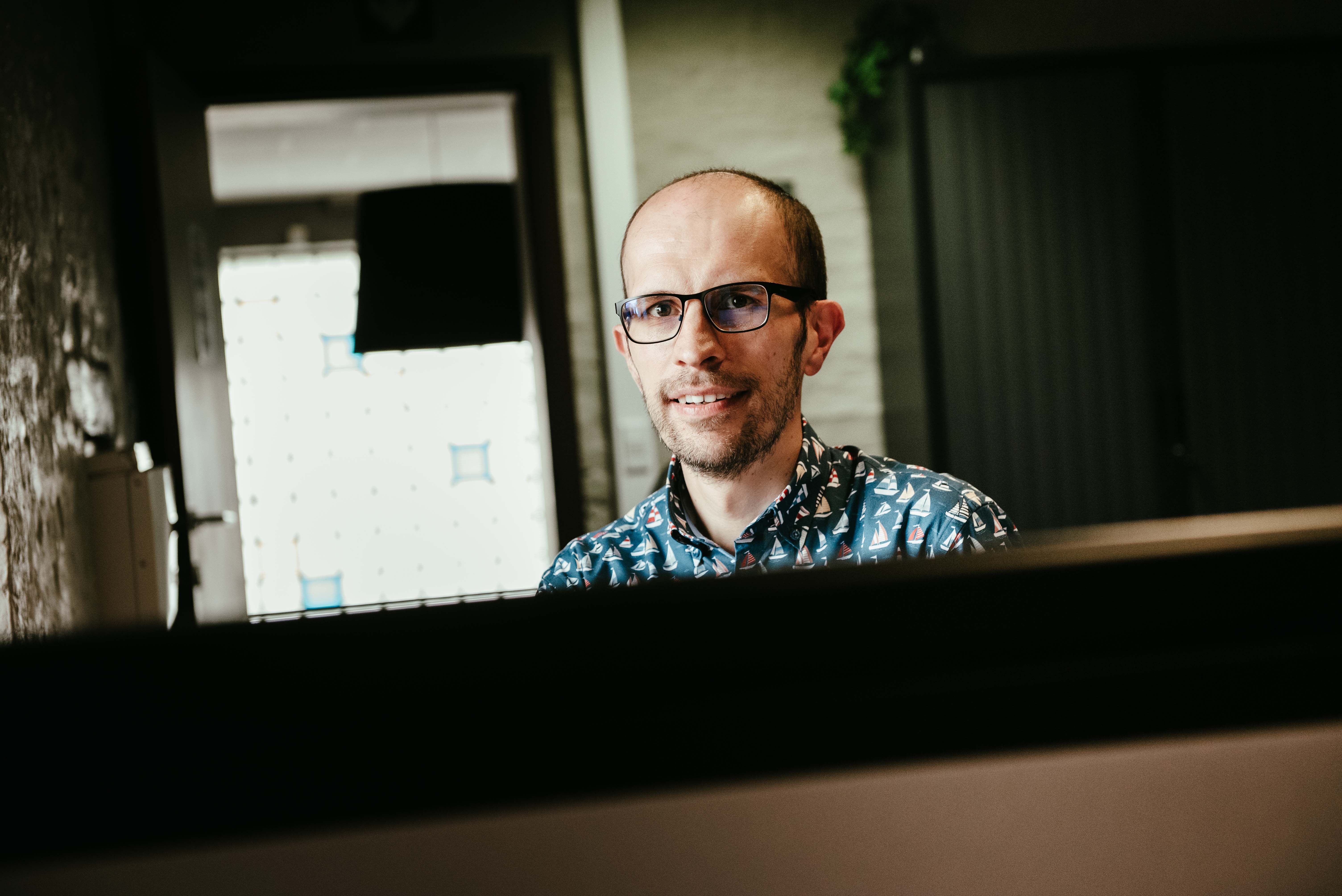 Henry, Management Accountant.
"I have always worked in the food industry."
"I have been with Charles Liégeois since January 2020. I have always worked in the food industry. No two days are alike here, as we often have to answer questions and resolve issues. As I also take care of management for Moka d'Or, I go to Libramont every month, in addition to once every quarter for stocktaking. On weekends, I love to go mixed terrain cycle touring with friends. Last year, we went to the Eifel region in Germany. It was an incredible experience."
Amir, production team leader.
"At Liégeois, you're not just a number"
"I started working here in February 2008 as a packer. I was then promoted to operator, and later to roaster. Now, I am a production team leader. You can't climb up the ladder by chance: you have to put in a lot of work. I love my job. We are in direct contact with management: they often come by to say hello. At Charles Liégeois, you're not just a number, and that means a lot to every one of us. I like to get some fresh air on the weekend, going for walks with my family. It's a good opportunity to spend some time with the children after a busy week."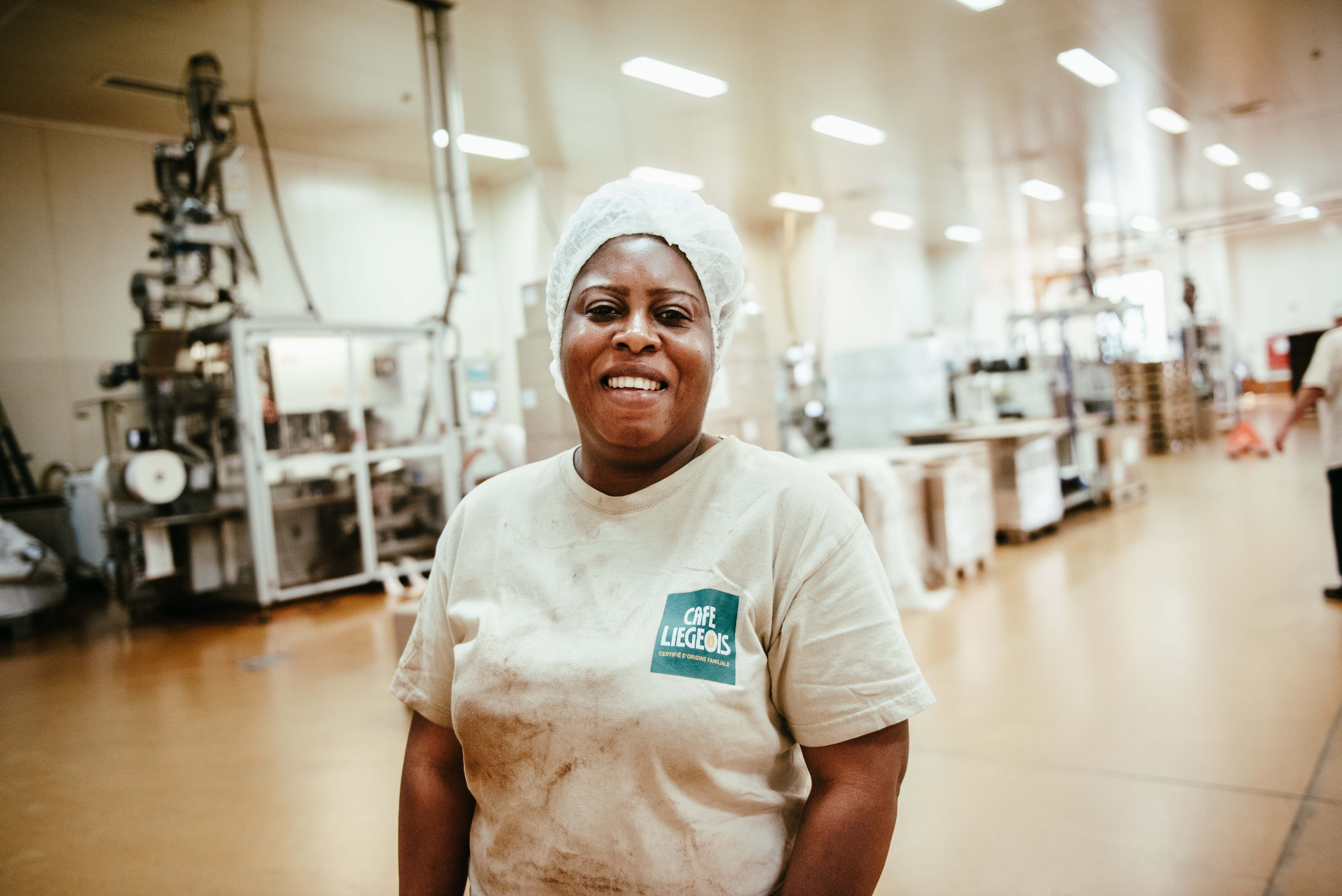 Annie, production line supervisor.
"I love Gospel music!"
"For the last five years, I have been working on the M production line in charge of manufacturing capsules for Nespresso machines. We work in shifts, from 6 a.m. to 2 p.m., from 2 p.m. to 10 p.m., or from 8 a.m. to 4:30 p.m. When I started here, the smell of the coffee would give me a headache, but now I'm used to it. What I like best here is the atmosphere: a good atmosphere makes the work easier. The Liégeois take good care of us, and that's important. What's more, if a problem arises, the mechanics come straight away to solve it. I love Gospel music: I compose songs and write lyrics. We hold concerts, and we are sometimes invited to weddings. I also organise the events."
Jessica, supply chain manager.
"I love hiking and pop-rock festivals"
"I've been working for Charles Liégeois for 16 years now. Thanks to the family spirit of the company, we have a good time, even though we are not here to have fun. It all started for me with a temporary job in the accounting department. I was 21, I was just starting out, and I've had the opportunity to grow over time. Today, I oversee production, organise transport, and readjust schedules in the event that a driver is absent or one of the trucks has a problem on the road. It's stressful, but it's part of the job. The most difficult thing to manage is the fact that even the smallest grain of sand can make the whole machine grind to a halt. But I am proud of the projects that we complete as a team with my co-workers. In my spare time, I love pop-rock festivals like Rock Werchter. I am so happy that this kind of event can start happening again. My other hobby is hiking through woods, fields and meadows with my dog called Mister Pooh."
Christophe, maintenance department manager.
"I play the euphonium"
"After having been a technician, I became the maintenance department manager for Charles Liégeois Roastery in 2014. Because prevention is the best cure, our team provides both preventive and curative maintenance for the machines. Our goal is to keep 90 to 95% of the work in-house so that our company is not dependent on subcontractors. What I like about this job is the diversity of the tasks that are assigned to me and the family side of the company, which really gives us the opportunity to feel involved. I also work with Benoît Liégeois abroad when we need to take delivery of machines. In addition, we are currently looking at ways to improve the production lines, which is very rewarding. And apart from that, I play the euphonium, in a brass band. We do concerts, we play at village fairs, we take part in processions…"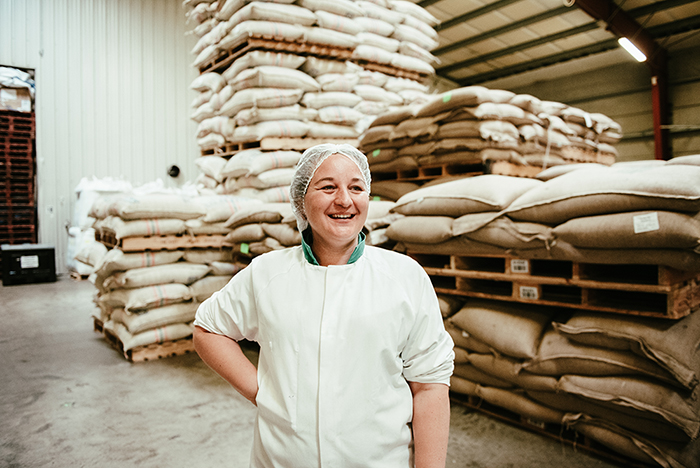 Isabel, quality assistant.
"The 5S method nourishes me"
"As part of my job as a quality assistant, I introduced the 5S method, which is a Japanese organisational technique, to Charles Liégeois. It consists of Sort, removing what you don't need from your work or life environment, Set in order, tidying and putting things in their optimal place, Shine and clean, Standardise procedures to sort, order and clean, and finally, Sustain the developed processes, by implementing and following them. With the help of the marketing department, I identified what elements are necessary and made sure they're immediately accessible, while avoiding actions that are surplus to requirements and reducing unnecessary journeys."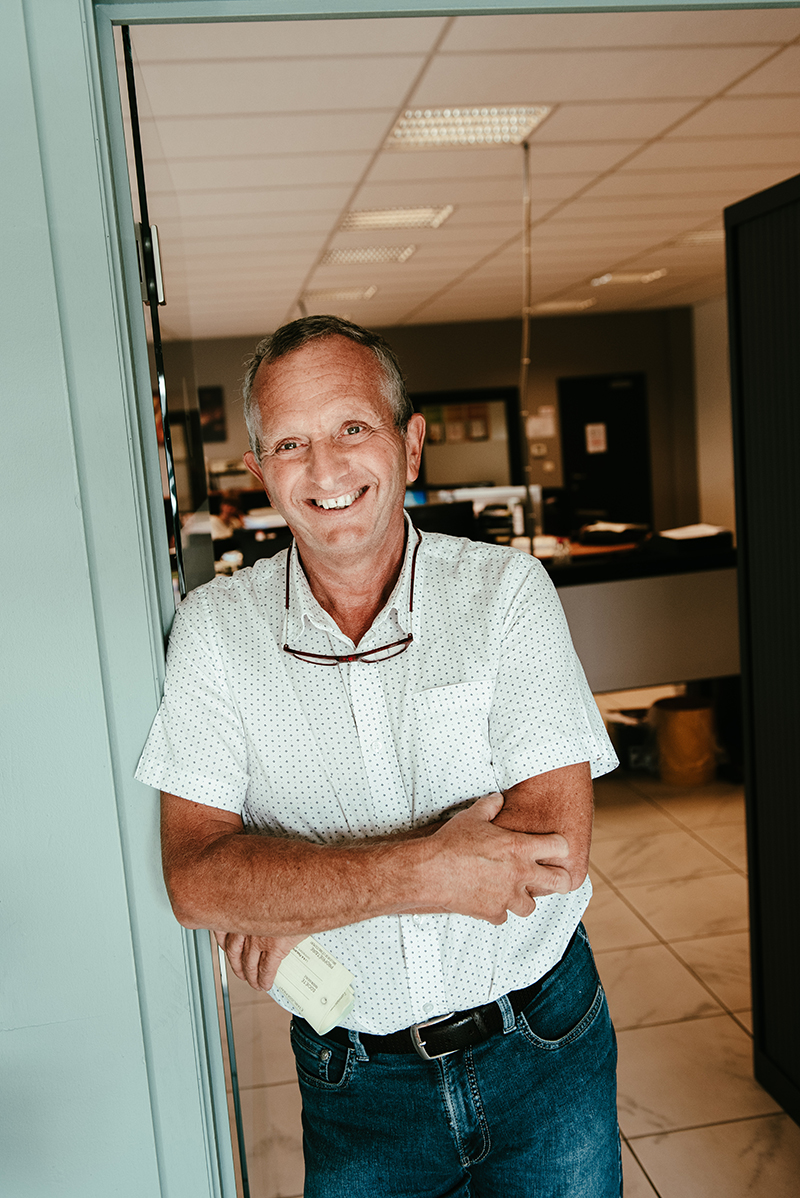 bernard, key account manager.
"My two great passions"
"As the manager of the major accounts, I am on the road all the time to visit our big clients such as Exki, Panos or the Walloon Region. My job mainly involves dealing with problems, but luckily that also means coming up with solutions and bringing good news. I have two great passions in life: Citroën 2 CVs and my job. The proof: I've got a day off, but I'm at the office. On the other hand, I hate administrative work, I can't stand sitting behind a desk. Being with people, with customers and suppliers, that's my thing. I can speak several languages, and I get to drink coffee all day."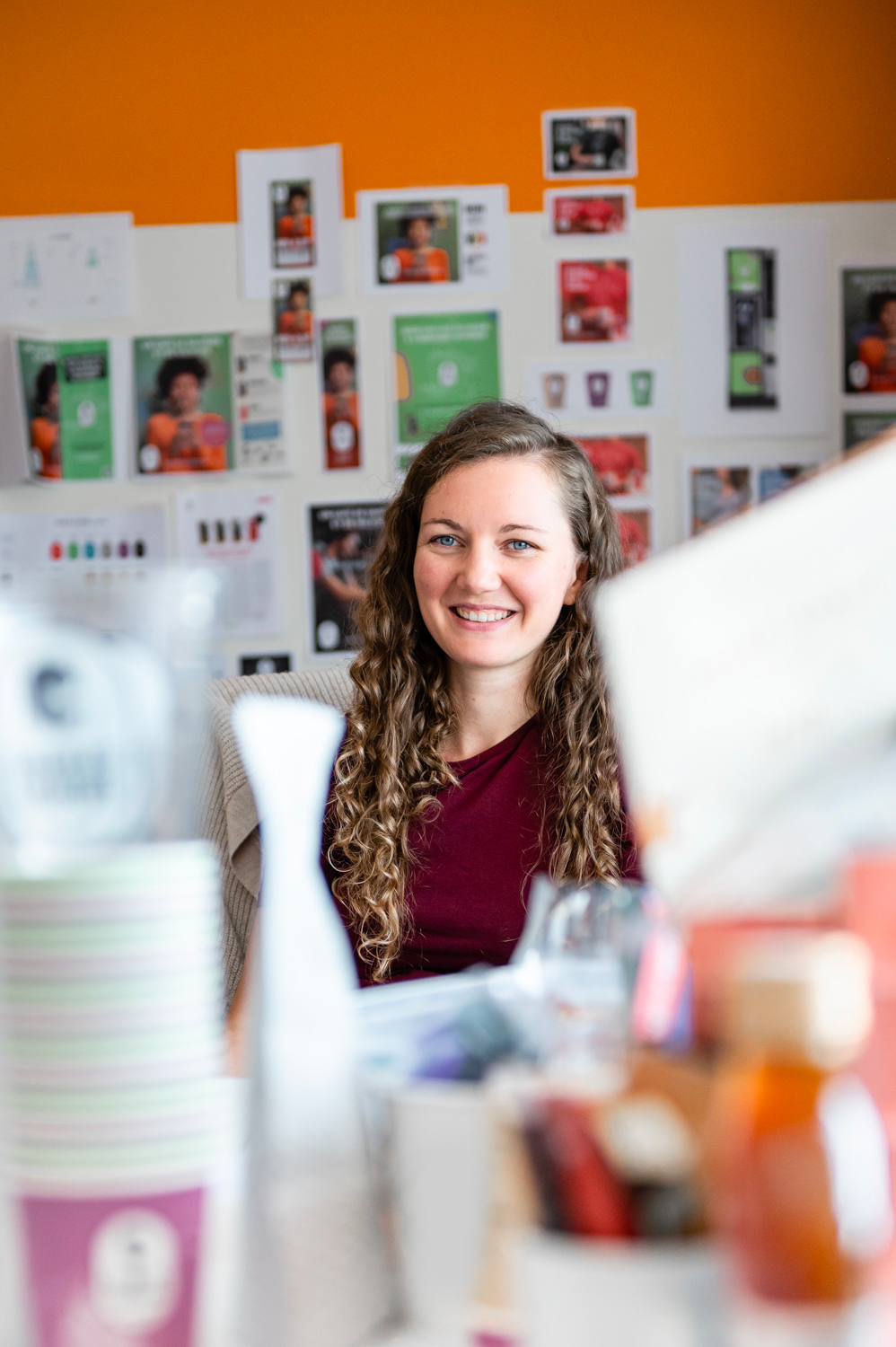 Chloé, graphic designer.
"What do I like best about my job?
The variety of tasks I get to do"
"I've been a graphic designer at Charles Liégeois since June 2021. I do quite a lot of different things as part of the job, I'm not just stuck at my computer all day. We recently gave our Coffee Truck a makeover, for example. I've been applying our new brand identity to the marketing materials you see on supermarket shelves, and find in magazines, or even within our company itself. A lot of my work is based on drawings by the illustrator Félicie Bouckaert. Sometimes I have to sort out the logistics of the coffee machines we provide at certain events. A large part of my job also consists of managing social media and updating the website."